I have a Bocar Mexican made 34 PICT-3 carb that will not idle anymore. The carb sat dry for over a year before the engine was installed. After having some idling problems after installation, I pulled the carb and found it full of black junk, dried gas? Got a carb kit and cleaned the carb out. I put it back together and and fired it up. Set the idle speed and adjusted the fuel, all seemed fine. Did not touch the car for 2 weeks until this past Sunday. Brought it out for its 1st official drive, started up, but took a while to start? Once it did it idled smooth as glass and drove it out of the garage. Left it running in the driveway to warm up and to make sure I wouldn't get stuck. After 3 minutes it died, just like before, but would start right back up and idle fine. If you try to rev it up, it dies. I must have done something wrong during the rebuild.

When I pulled the carb off to rebuild and had it on the bench, I pulled the top and removed the float out, I noticed on the left side at the bottom there looks like something should be screwed in. Does another jet get screwed in there?? I can take a photo tonight. This carb came with the engine and it ran fine on the bench.

I have good fuel flow from the tank back. Fuel tank is clean, rebuilt fuel tap and screen, new cloth hoses, fuel filter installed buy the transmission, and had my son crank the car for a few seconds and the pump shot gas 3 feet out the carb line. The pump is new as well. Is this the problem that people complain about Bocar carbs? I am ready to drive it, but can't seem to get her out of the drive way.


Danny
Here is a photo of the Bocar 34 PICT-3 and you can see the place where it looks like something should screw into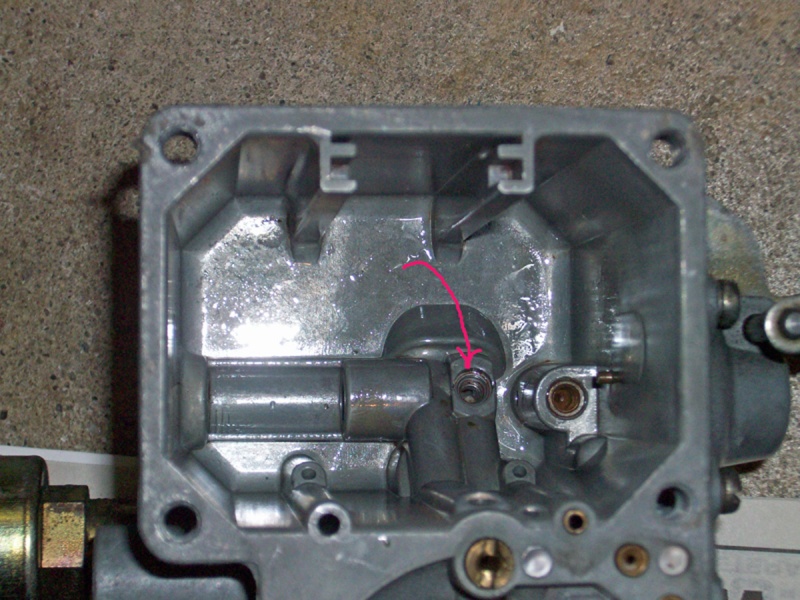 Last edited by Heinz57 on Wed Jul 21, 2010 8:41 pm; edited 1 time in total (Reason for editing : Photo problem correction)
You are missing one there. If you cannot find one I will be back on Monday and can pull one out for you. Also verify that your accel pump is working, if not the brass insert to the right of your missing piece is a plug often overlooked, pull it out and there is a ball bearing that sometimes gets gummed up. I have also seen a few fuel shut off switches fail when warmed up. If it still dies once you get it back together check it while warm and make sure its working.
Complete Dub Addict




Number of posts

: 894


Age

: 49


Location

: marietta ga


Registration date :

2008-11-22



I did some more checking on this carb. This missing jet or plug is not even drilled out on the original 34 Pict-3 German carbs, makes me wonder why Bocar drilled and tapped it out for.
For the idle problem, try cracking the idle jet loose while it's running. If it helps, you need a bigger idle jet.

Also, does the acc. pump squirt when you goose it (engine off)? Put your head against the decklid and look down the carb throat as you pull the butterfly open. If there's no squirt, something's up with the acc pump.
Dub Nut




Number of posts

: 278


Location

: Athens, Ga


Registration date :

2008-07-23



When I pulled the top off the carb, I had plenty of fuel in the bowl. I pulled the needle and seat out to the top, its clean. I rechecked and noticed that I had used the wrong thickness washer 1.0 mm, installed the correct .5 mm one.

Fired it back up, hard to start again and the accellerator pump is not working. When you try to rev it up, it just about dies. I have the original one and its in nice shape. I will reuse and try it again tonight
Before you swap out the accel pump pull the plug out and make sure there is no trash/gum in with the bearing. If its clogged there no fuel will make it to the pump.

If you do not have anything to pull it with, I use a 5" wood screw with the tip cut off up to full threads. It will then bite the brass and pull it out.
Complete Dub Addict




Number of posts

: 894


Age

: 49


Location

: marietta ga


Registration date :

2008-11-22



Solved the problem, picked up a Solex PICT-34-3, rebuilt it and the car actually started and ran OK. Still need to fine tuning it, but was able to drive the car for the 1st time yesterday. Ran it over 20 minutes between idling/adjustments and driving it.
hi was checking out also this brand of
carburetor
, thanks for the information, and still i would search for other brands as well. been restoring my brother's engine last week, still many things to do before it can be put back on the shell.
Dub Noob




Number of posts

: 1


Location

: cville


Registration date :

2010-12-07




---
Permissions in this forum:
You
cannot
reply to topics in this forum