I am making all new panes for split buses. Many colors to choose from. I wanted to try this new red color.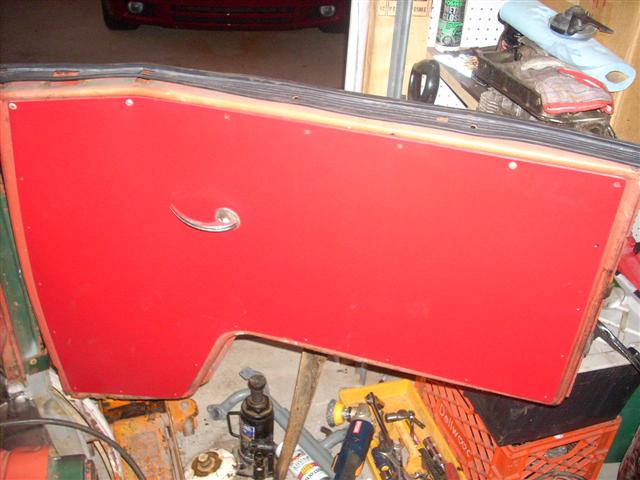 I saw a pretty cool set at a Stone Mountain show. The guy cut the panels out of hardborard, rounded the edges, put all types of his era VW newsprint, magazine ads, peace signs, old VW logos, etc, covered it edge to edge and then he ran a clear epoxy over the top. So the result was like one of those resturant tables you see with the thick coat of varnish.
Cool idea. These are close to the original panels, but will last longer. They are made of a PVC material. I have colors that are close to the stock VW colors. I will have more pics soon!
Got any more pics yet? And maybe a rough estimate? I will soon be getting my 66 on the road....


_________________
1958 Euro Beetle "Raggedy Anne"
1959 Ghia "Elvira"
1961 Beetle "Old Blue"
1964 Beetle "Pat"
1966 Chevy C10 swb fleetside
1967 Black Friday Bus

Bryce
I will have my Bus at The Bugs at the Branch show if you want to see the Gray panels in person. The only pics I have are of the red panel. That was a test. I guess about $100 for the 2 doors, 2 overhead panels and the 2 nose panels. That includes new screws and washers. The gray color is very close to the OG color. I will try to get pics of the Gray ones asap. Thanks
Sweet. I will check it out either if you get the pics or at the show.

_________________
1958 Euro Beetle "Raggedy Anne"
1959 Ghia "Elvira"
1961 Beetle "Old Blue"
1964 Beetle "Pat"
1966 Chevy C10 swb fleetside
1967 Black Friday Bus

Bryce


Similar topics
---
Permissions in this forum:
You
cannot
reply to topics in this forum