Hey, picked this up over the weekend.
Body is solid, Heat Channels look good. Some pinholes on the bottom of the drivers rear and front fenders and along bottom of front apron.
Gonna MIG it back w/o bondo.
I will be painting it although my two oldest girls have begged me to keep it this color.
I need floorpans, could possibly get away with just the back 1/2's but wanted to see what was out there.
Have the original owners manual with dealer buisnes card from Knoxville, TN.
Needs an engine, but I have a 1600 DP for it.
Needs front calipers and hoses, tires, steering wheel (I have the Superior 500 walnut), clutch.
Was originally Ravina Green (35). This is the same color as my '75 bus is now.
Was painted (correctly) two times PINK...
Came with a set of Baja steelies with rotten tires, put the Rivi's from my stock pile.
Enjoy!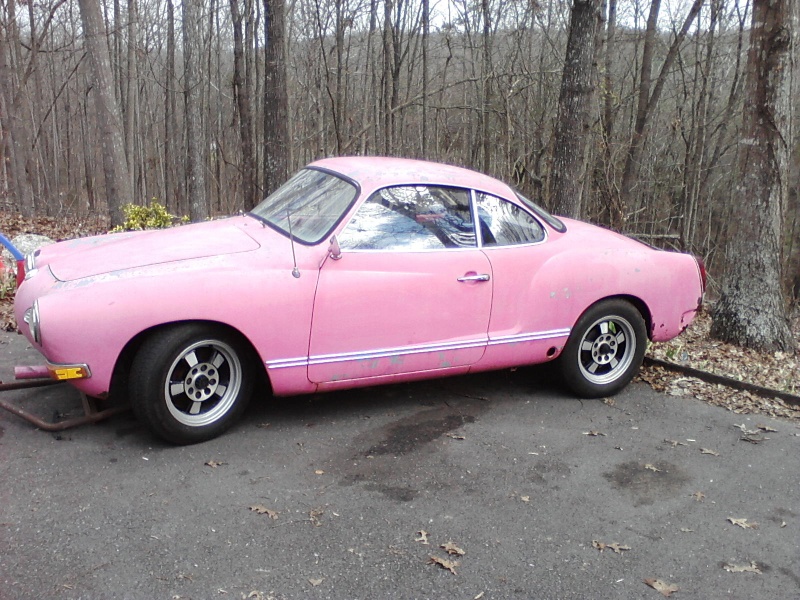 Thanks,
KC
Last edited by ASBug on Thu Nov 08, 2012 4:22 pm; edited 2 times in total

ASBug

Dub God




Number of posts

: 2185


Age

: 47


Location

: Varnell, GA


Registration date :

2009-01-12




type901

Dub Crazy




Number of posts

: 543


Location

: McDonough


Registration date :

2010-03-06



Got a sweet deal on a 3" narrowed adjustable beam.
Stacking up the parts for the resto mod.
Ordered the Joe Cali's Type IV conversion book and with all the tin I have in Bad Cop Bus, I think I am going to go for it and put the 2.0 or the 1.7 in the Ghia.
More later,
KC

ASBug

Dub God




Number of posts

: 2185


Age

: 47


Location

: Varnell, GA


Registration date :

2009-01-12



Got the 5th Rivi all skinned out with a good tire and got her puled up to the house on Saturday. At Stevenson I scored a complete black flooring set for the ghia as well as new push rod tubes and a really strange flip down visor for a ghia supposedly.
I have all new calipers, metal and rubber brake lines, rear shoes and cylinders, steering stabilizer. Going to remove the seats and ascertain what the damage to the pans are.
Hope to start dissasemleing the car this weekend and sanding.
I sanded a little area on the fender and the OEM paint was toasted via a DA sander at some point in time so OEM finish is a no go.
KC

ASBug

Dub God




Number of posts

: 2185


Age

: 47


Location

: Varnell, GA


Registration date :

2009-01-12



This is back on the burner now that I am VW'less in the driver department.
I am going to go with either a 2.0 / 1.8 or a TDI for the ghia.
Doing research and would appreciate any and all help given.
Some good stuff on the shop talk forumns about radiator placement and such, and the adaptors are available for the engine to trans.
I am going to do this and make it look sweet.
Gotta have a good daily to make up for the gas difference in the new Quadcab v/s the '88 B2200 mazda I have now.

KC

ASBug

Dub God




Number of posts

: 2185


Age

: 47


Location

: Varnell, GA


Registration date :

2009-01-12



Also, Scored some new metal full floorboards - both sides for $200 locally!
I was just going to weld in some sheet metal, but for that price I couldn't pass them up.
KC

ASBug

Dub God




Number of posts

: 2185


Age

: 47


Location

: Varnell, GA


Registration date :

2009-01-12





Similar topics
---
Permissions in this forum:
You
cannot
reply to topics in this forum