ALL RIGHT THIS DOES HAVE SOMETHING TO DO WITH VW'S I AM TAKING THE TRANS OUT OF A 66 BUG THAT HAS BEEN SITING FOR ABOUT 2 YEARS AND EVERY THING IS LOSE BUT THE SHIFTER UNDER THE BACK SEAT WHEN I OPENED THE DOOR A SWARM OF RED WASPS WERE IN THERE I SET OFF 3 BUG BOMBS AND CLOSED THE WINDOWS BUT I DONT THINK THAT GOT THEM I KNOW I AM NOT THE ONLY ONE WHO HAS HAD THIS PROBLEM SOMEONE HAS TO HAVE SOME KIND OF THICK OTHER THAN STARTING A FIRE IN THE CAR THANK YALL.
Just get a shop vac and when they start flying around, suck em up. When its full, put it somewhere far away so if they get out, they won't get ya, because they will be really po'ed by then. We did this with some yellow jackets that got into a wall in the house and it worked great!!

DiggerD

Appointed Forum Smartass




Number of posts

: 2522


Location

: Dacula, GA


Registration date :

2009-01-18



I use whatever aerosol can of anything flammable, like today i used brake cleaner in my mailbox for a nest that formed over the day, a few weeks back I used the foaming tire shine... that worked good it gave them a nice shiny coat

then i just knock them down and squash.

59suicide

Dub Crazy




Number of posts

: 552


Age

: 37


Location

: Okinawa, Japan


Registration date :

2008-08-03



Have you tried using on of these?
for a big infestation- get a bigger one though.
(Does this get me points in the scavinger hunt?)

Hornet spray, or flying insect spray. Can get it with a 25 ft range and kick the car, run away and commence to taking them out as they fly out!
i like to use a bottle of alcohol. i had a wasp nest in my dune buggy body the other day. I took a spray bottle i had lying around, and spray them and the nest with it, and they die almost instantly. Also it doesn't really matter where you spray the alcohol, cause it will evaporate quickly. I'm not sure weather it kills then instantly, or they just get instantly drunk, cause as soon as they stopp moving, i stomp on them (and why i need to fix a crack in the buggy hood now

....

). either way, it works.

Bugman114

Dub God




Number of posts

: 2461


Age

: 30


Location

: Ellenwood, GA


Registration date :

2008-08-09



Tell your neighbor you cant loosen a bolt. Bet him a six pack that he cant loosen it, if you bet a 12, he might become suspicious. Works for me.

56rag

Dub Nut




Number of posts

: 373


Location

: ellijay


Registration date :

2008-12-28



I had made some traps that can catch wasps and yellow jackets. never tried them in a bug before, but just thought i'd throw this out there, because there is a huge nest of yellow jackets where i work on my dune buggy.
Anyhoo. here is a pic of one: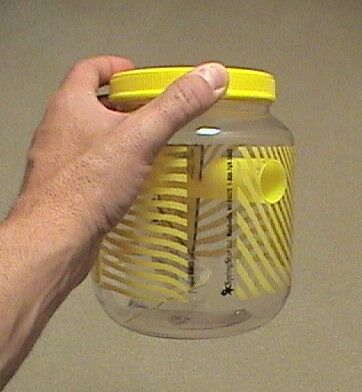 I bought one from homedepot a while back, but just started making my own, cause its much cheaper to, and very simple. All you do to make this trap, is take any soda bottle, or juice bottle, drill two large holes thru the bottle twice (like the pic), and run two PCV pipes thru, making sure there is a large hole on TOP, and silicone them in place. the pic shows one, which will prolly be fine, so it really doesn't matter. then stick a piece of meat in the tubes right under the hole, and fill the bottom of the bottle with something sweet (soda, juice, etc.), but orange soda seems to work best. anyway, set it where yellow jackets and wasps are, and after a few hours, you'll see the bottom full of dead wasps and yellow jackets. I don't know why this works, but it does. They simply fly in the tube, fly up thru the hole, and fly around till they get tired, and die in the liquid. I just set about 5 traps around my yard, about 3 days ago, and they are full of dead yellow jackets.

Bugman114

Dub God




Number of posts

: 2461


Age

: 30


Location

: Ellenwood, GA


Registration date :

2008-08-09



lol..dude have you tried wasp spray..i have this prob. all the time an i just either spray them with wasp killer or just hit thim...also try putin brake fluid in a spray bottle and spayin them with that..it worked for me a couple of times
just don't spray anything with a painted surface, hahaha. Kind of a messy approach tho. At work (advance auto), we have a bad wasp problem, as well as ants. We just use brake cleaner, and it works great. instantly kills anything, and no mess to clean up afterwards. just spray the little fuggers, and they die, lol.

Bugman114

Dub God




Number of posts

: 2461


Age

: 30


Location

: Ellenwood, GA


Registration date :

2008-08-09





Similar topics
---
Permissions in this forum:
You
cannot
reply to topics in this forum