Black lassie was a 1972 Volkswagen sedan that I took great pleasure in restoring, then wrecked on the first outing. Yep, took out the front end in a heart beat by choosing a 6" dia. metal pole to stop me when the brakes went out. The Pole was a better choice than the commercial propane refilling station storage tank.
Any how, With no more funds for the restoration project, I decided to "BAJA" the bug. I grew tired of it after about a year. So, I cut the top off. Yeah, Right! WTF was I thinking? It was time for a change. I built Black Lassie using other junk, no, "DONOR" cars I had laying around the yard. (76 Datsun 280z, 94 Ford Aspire, 76 Ford F150, 94 Chevy Chattanooga Customs Van) It currently has a chopped roof ,with one hell of a sunroof, made from using a 1976 Datsun 280z hatchback , Suicide Doors, Widen fenders, a small 1641cc engine with a mild cam and twin Kadron Carbs.
Black Lassie is an example of an alternative to traditional Ratrods. Because Classic Ford model Ts and Model As are becoming more scarce and more valuable, the Volkswagen community has turned to the Volksrod. Volkswagens are cheaper, easier to find, and easier to find parts for. They sport a 1930s design which is very much in keeping with hot rodding's roots. Considered an extension of the Ratrod customization style, the Volksrod is built with little or no expensive machined aluminum or chrome plated parts. They are mostly hand made by their owners, using simple tools and welding equipment. Both Volksrods and Ratrods usually appear unfinished, with inexpensive primer only paint jobs. Most common is the Flat black color obtained only from a spray paint can, applied in the owners driveway.
To see a complete picture build History of this Vehicle, with comments, visit
www.hubgarage.com/mygarage/fleye
This is my everyday vehicle. So, I guess I'll just keep modifying it as I go along using what little money I have. I am currently doing a major rebuild and modifications. The new modifications include installing front drop spindles, front disk brakes, 94mm pistons (1915cc), A beefier cam (Scat C45), widening the rear fenders another 3 inches or so, and dropping the rear "bumper" another 6 more inches. I will be posting new build pictures soon at
www.hubgarage.com/mygarage/fleye
The following pictures are about 2 years old.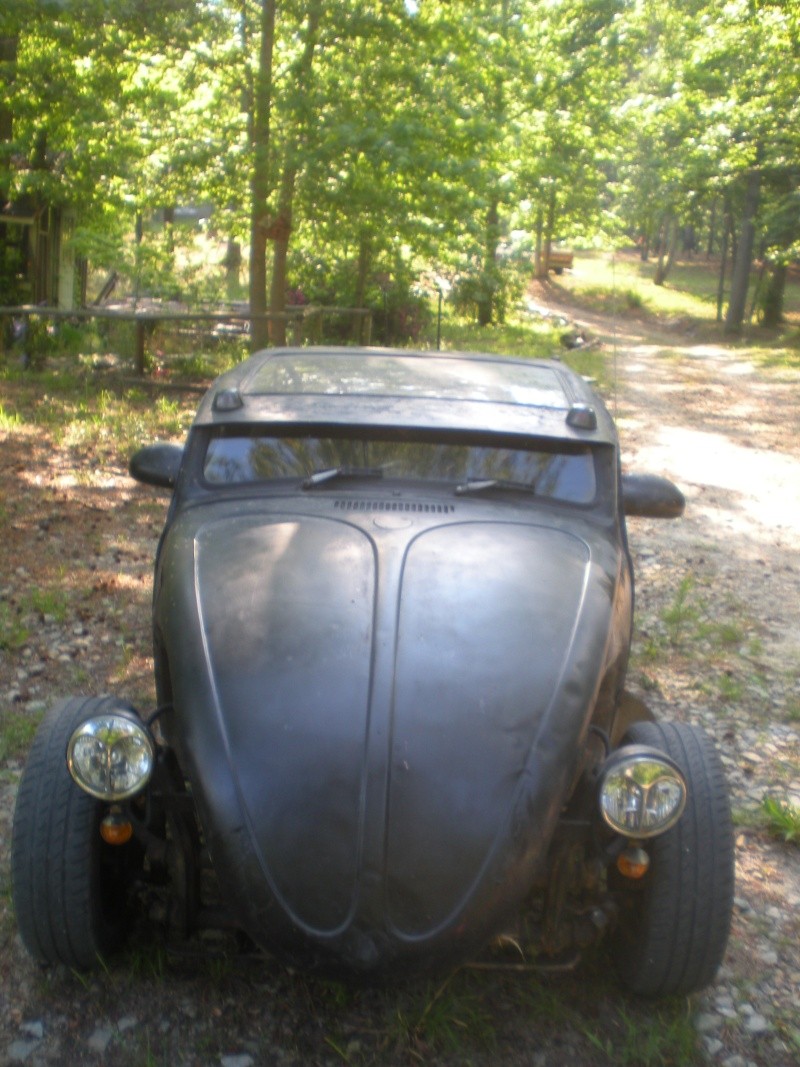 Last edited by Fleye55 on Wed Aug 22, 2012 4:14 pm; edited 10 times in total (Reason for editing : Trying to add pictures)
nice work..I would like to see a pick from the rear straight on..very cool
Dub Noob




Number of posts

: 60


Location

: Atlanta


Registration date :

2010-07-19



Nice looking VR. Would like to see some more recent pics to see your progress.
Thank you guys for looking. I have had the car in the garage since last November when I spun the thrust bearing. Well if that wasn't bad enough, When I took the case to be a-line board at ProFlow, Steve informed me that the case "warped". What a bitch. Oh well, back to the drawing board. Got me a used case, punched it out to hold the 94's. and started all over again.
My recent projects include closing in the engine compartment. All the side walls and other pieces of the compartment were removed way back when (some 7 years ago) the sedan was turned in to a baja. My camera crapped out on me, so newer pictures are limited at this time. I did get a new camera though, and should have some new pictures soon. In the mean time, I go to Talladega twice every year. These two pictures were taken last October.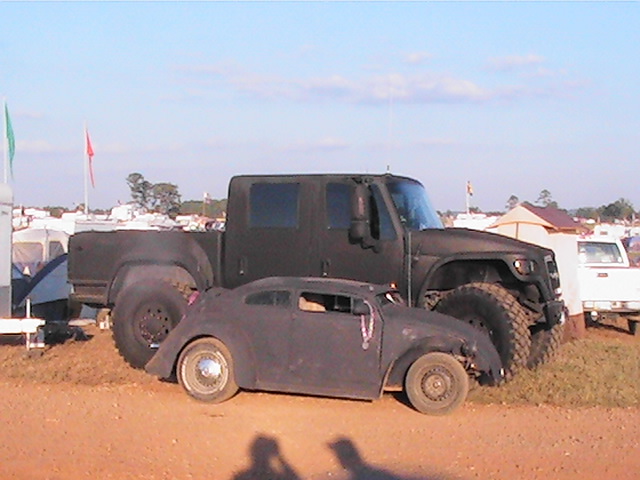 Last edited by Fleye55 on Fri Mar 15, 2013 1:51 pm; edited 1 time in total (Reason for editing : Posting pictures)
Chris Shu wrote:nice work..I would like to see a pick from the rear straight on..very cool
Chris, I have problems uploading pictures to this site. if this worked out then here are two pictures of the car from the rear. The first is when I started to build the deck lid a few months (maybe a year ago) back. The second and third pictures shows the deck-lid after being cut and formed with fiberglass to fit the existing baja piece. The final picture shows the current status of the rear. You will notice that the exhaust is being replaced with teardrop tail lights. they have been cut and re-welded to now exit under the car. I will also be replacing the iron cross lights with tear drops. Notice also that I have changed the location of the external oil filter from outside the lid to just inside the rear clip area.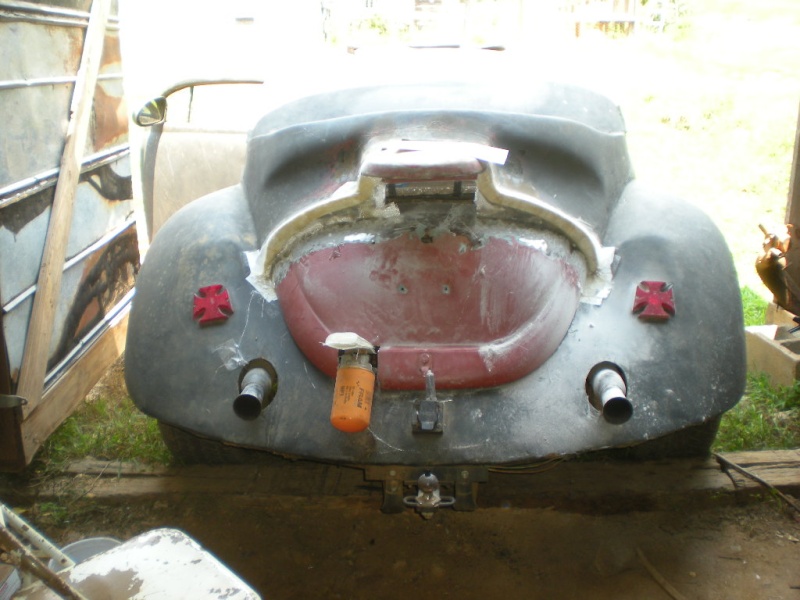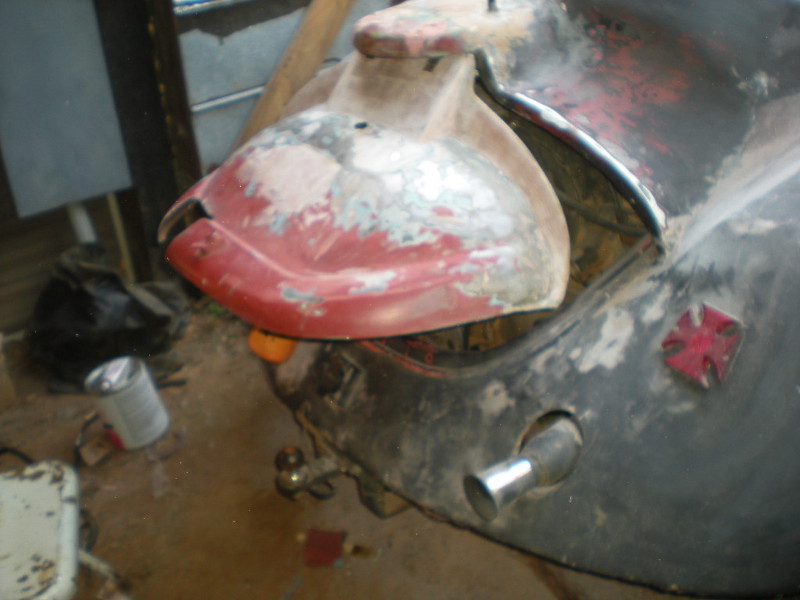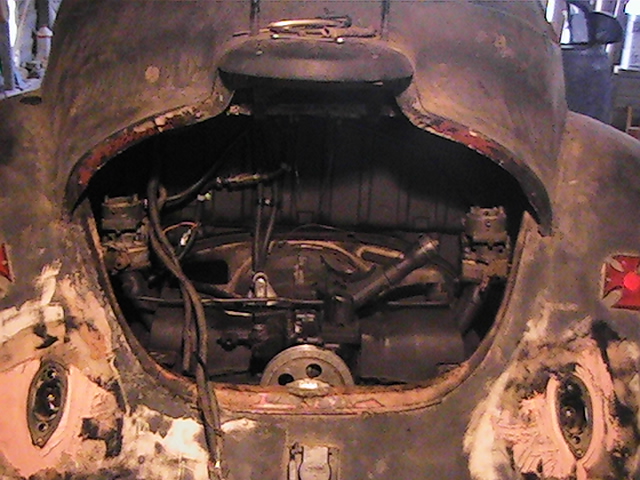 Nice job on the rear so far.

Dub Noob




Number of posts

: 60


Location

: Atlanta


Registration date :

2010-07-19



I've seen pics of yours before, Chris. Now if you ever want to part with that exhaust,,,,,,,


---
Permissions in this forum:
You
cannot
reply to topics in this forum