Hey folks!
I'm new to the site and new to VW's but I'm looking to break right in and get to know some other enthusiasts. I recently picked up a cobalt blue '70 Bug that I want to fully restore. I've been tracking my progress so far and as a new father that works full time I've had to become a weekend warrior but I'm proud of where I'm at so far.
Here are some pics of the car I got (for free) that I'm working on in Kennesaw. These of course were taken before washed it down, pulled out the old carpet, removed every bit of trash and completely vacuumed the interior.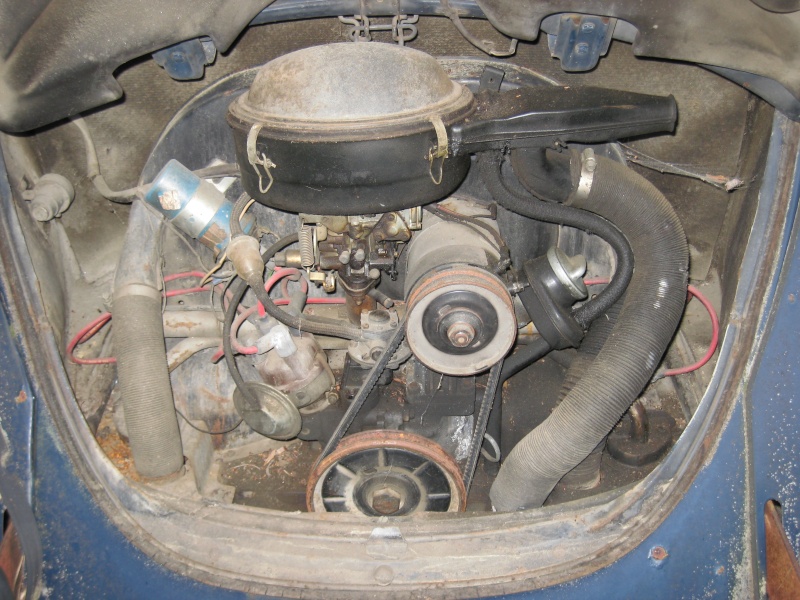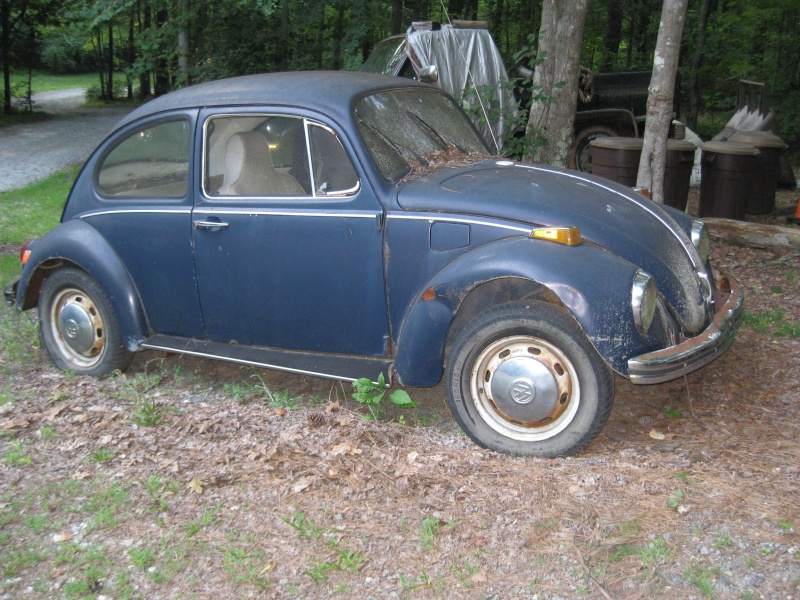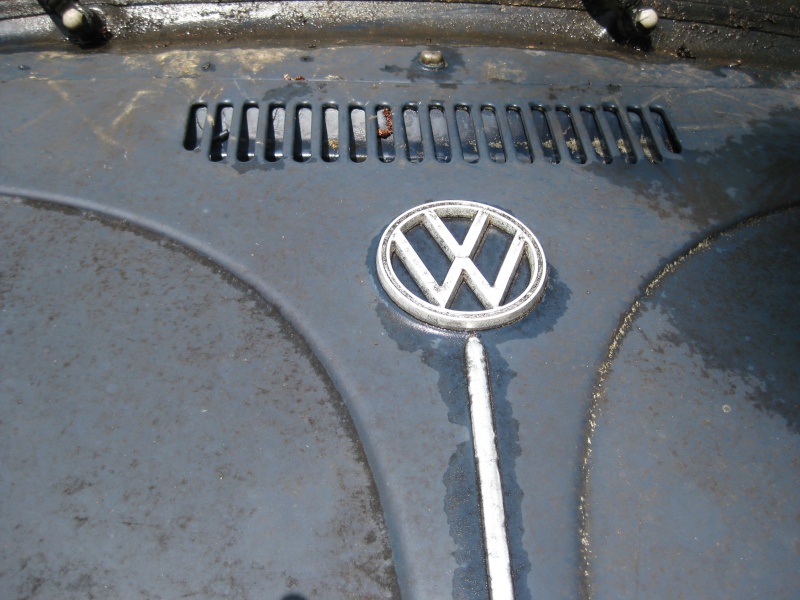 Here's a link to where I'm documenting the process and posting more photos as I take them
. I'd love your feedback, advice, help, discussion and insights. Thanks!
~JB
Last edited by JBeetleBee on Wed Sep 23, 2009 12:24 pm; edited 2 times in total (Reason for editing : Resized images to fit forum)
looks like you have a great/solid start! i have a soft spot for 70 and 71 bugs, I dont know why... anyway, i live about 20 miles from kennesaw, if you need some help hit me up...Best of luck!
Complete Dub Addict




Number of posts

: 910


Age

: 27


Location

: Canton


Registration date :

2008-10-22



Hey man,
I appreciate the kind and helpful words. As I'm new to this racket, I could probably use all the help I can get.
Right now we're getting to work on crankin' up "Ol' Bloo" (as I call him) and get him running again after years of sitting. Made some progress and found that the engine is in relatively good shape.
There's a lot of body work to do of course, as you can tell from the pictures.
I made an inventory of everything I can tell that needs to be done
just from looking it over but
I'm sure there's going to be more projects added as I go but this should keep me busy!
I look forward to staying in touch and hearing your own stories.
Thanks,
Jaq B
Welcome to the Georgia Dubs. There are a lot of friendly people here willing to help out. That's a great start you have there. Plenty of potential. If your desire is to make it a complete resto, don't get into too much of a hurry. It takes time and about 3-4 times as much money you would think to get it perfect.

This is all my opinion but...

What you do and the order you do it depends on how you wish to bring "Ol' Bloo" back to his former glory. If you're desire is to break him down to bare bones and make him showroom perfect before he hits the road, you need to start with the body work and rust removal which will require you to rip em down to bare bones. On the other hand, if you wish to get him rolling and tinker as you go, then you need to start with the brakes and tires before you do the cosmetic stuff. This might not make much sense but, trust me, if you get it cranked up you're GOING TO HAVE to go for a spin. You won't be able to resist. To get it stopping you need to replace all that is rubber (wheel cylinders, master cylinder, rubber lines) in the system because they will have dry rotted over the years. Then you'll need to replace and clamp every fuel hose in the engine compartment

Good luck and remember my VW mantra...

"Going is optional but stopping is absolutely imperative."
Out of Control Dubber




Number of posts

: 1921


Location

: McDonough


Registration date :

2008-07-24



Welcome! :R:
Glad you found us here. I'm in Cobb, down in Powder Springs- and formerly have been up in Kennesaw and Dallas too.
I've got a '68 that I've had for ........quite a while.(*note Bumble Buggy's comment!) Key words- ENJOY IT!
It would be great to get together and meet some time,so watch for events and gatherings on here. Aside from the VW events- there are Cruise nights every weekend in the area.
Here's some of my rides 'evolution'-
(more recently!)
Always a work in progress- my knuckles are greasy now!
Out of Control Dubber




Number of posts

: 1692


Age

: 50


Location

: Kinda like Mayberry around here


Registration date :

2008-07-25



no prob dude,
listen to Glenn, he knows what hes talking about...
I, my self have been in both situation, a complete resto on my old 74, i replaced everything! and it was like it had left the factory when i finished(with the exception of a few upgrades!) although I had to wait a year and a half to drive it it was totally worth it.
and now im taking the other road. I got my lastest project running and im working on it bit by bit, although someday i'll do a complete redo, untill then im just enjoying "piddling" with it.
have fun with it dont rush it, btw I goto ksu so im at kennesaw at least 2x a week
Complete Dub Addict




Number of posts

: 910


Age

: 27


Location

: Canton


Registration date :

2008-10-22



Glen, Don, Euro Rag,
Thanks again for the warm welcomes. I had a feeling I'd be met with open arms. It's as though the VW enthusiasts and owners are not unlike they're cars, goofy, laid back, down to earth, and kind. The unpretentiousness is what always allured me to the Beetle especially.
Glen, That's some great advice. I'm probably going to need to do this piece by piece and start by getting it road worthy first. We've already replaced all the fuel lines, clamps, fuel filter, oil, and hoses, as well as put in a brand new Bosch coil. We know the starter/solenoid kit works but still need a new ignition switch and have to find out where the short is between the ignition and the starter.
I think it'll run soon!
My long term goal is to make this thing absolutely beautiful again. I will probably end up stripping it down bare like you said and getting it fully restored but with limited budget and a new baby in the family money is an issue for now.
Please offer any advice and info you can and I'll keep you posted on my progress. I'd love to get to a meetup soon. I'm planning on heading to the one in TN next week but let me know if you guys in the Metro are (when the flooding is over) want to get together.
Thanks guys!!
JB
(Beetle Blues)
Welcome to the forums!!
Looks like you are getting some good advice already,

and it looks like you have a good starting point with the 70 and a good plan of attack. I bet it will be up and running before you know it.

Appointed Forum Smartass




Number of posts

: 2522


Location

: Dacula, GA


Registration date :

2009-01-18



yeah let me know if you need any help im always in kennesaw for some reason
Dub Nut




Number of posts

: 275


Age

: 30


Location

: cartersville


Registration date :

2009-01-05



Welcome to the family!! Don't be afraid to ask any questions you might have. Several of us have had these cars for 25 years.
I still love them! Do call or email if you have any questions or need help. I love to come and offer help to others and there cars. I live in Dallas just off of Hwy. 92. Some times that project can seem overwhelming but just take it one step at a time and concentrate on all the little jobs and soon or later they will all come together. It took me nearly 1 1/2 years to get mine on the road, between schedule and money. And it is still by far not complete but wanted to get it on the road.
Most of all HAVE FUN!!! Once you get him going and you drive him......you will have been bitten!!!
Welcome!!!
Complete Dub Addict




Number of posts

: 895


Age

: 50


Location

: Paulding County West Georgia


Registration date :

2008-07-27



i also have a 1970
look at my pics
(rite under your thing on the 70s tab)

we r doind body work today

its kinda my daily driver so hopefully it will be done for school lol
Out of Control Dubber




Number of posts

: 1956


Age

: 26


Location

: canton


Registration date :

2009-09-26




---
Permissions in this forum:
You
cannot
reply to topics in this forum